Friday, July 13, 2018
8:00 pm–10:00 pm
Harry and Mildred Remis Auditorium (Auditorium 161)
Directed by Cédric Klapisch (France, 2017, 113 min.). Digital. French, English, and Spanish with English subtitles.
In this tender tale from acclaimed director Cédric Klapisch (L'Auberge Espagnole), three siblings come together at their childhood home in picturesque Burgundy to save the family vineyard. Jean (Pio Marmaï), the black sheep of the family, unexpectedly returns home from a decade abroad to reconnect with his hospitalized father. He's welcomed by his strong-willed sister, Juliette (Ana Girardot), who took over the reins of the vineyard after their father fell ill, and Jérémie (François Civil), the youngest of the three who has recently married into one of the region's more prestigious wine families. Jean, Juliette, and Jérémie have no choice but to learn to trust each other as they work to preserve the land that ties them together.
Ticket Information
To order tickets by phone, call 1-800-440-6975 ($6 processing fee applies); to order in person, visit any MFA ticket desk.
Discounts
Purchase tickets to three or more regularly priced films at once and get $3 off each ticket. Discount automatically applies at checkout. This discount is not applicable on past purchases. All tickets must be purchased at the same time within the same order for discount to apply.
Groups of 10 or more are eligible for discounted tickets for most of our films. For more information, please call 617-369-3310.
University Members can purchase $5 same-day tickets in person for regularly priced screenings. Valid student ID required, limit of one ticket per ID.
Sponsors

Funders of the Ruth and Carl J. Shapiro Film Program at the Museum of Fine Arts, Boston
The Boston French Film Festival is coordinated by Carter Long, Katharine Stone White Curator of Film and Video, Katherine Irving, and Alexis Weinrich.
Co-presented with the Cultural Services Office of the French Consulate in Boston.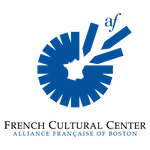 Additional support provided by the French Cultural Center.