Sunday, July 15, 2018
1:00 pm–3:20 pm
Harry and Mildred Remis Auditorium (Auditorium 161)
Directed by Arnaud Desplechin (France, 2017, 114 min.). Digital. French with English subtitles.
Twenty-one years after the disappearance of his wife, Carlotta (Marion Cotillard), filmmaker Ismaël Vuillard (Mathieu Amalric) has finally begun to heal. With the support of his new partner, Sylvia (Charlotte Gainsbourg), he is hard at work on a much-anticipated new film. But his comfortable life starts to unravel when the long-lost Carlotta reappears, dredging up his painful past. As his sanity deteriorates, scenes from Ismaël's increasingly chaotic existence are intercut with scenes from his half-finished film about a smooth-talking diplomat named Ivan Dédalus (Louis Garrel). Master director Arnaud Desplechin (A Christmas Tale, My Golden Days) layers narrative upon narrative to create a chaotic sensory experience, plunging viewers into the intricate mind of a tormented visionary.
Ticket Information
To order tickets by phone, call 1-800-440-6975 ($6 processing fee applies); to order in person, visit any MFA ticket desk.
Discounts
Purchase tickets to three or more regularly priced films at once and get $3 off each ticket. Discount automatically applies at checkout. This discount is not applicable on past purchases. All tickets must be purchased at the same time within the same order for discount to apply.
Groups of 10 or more are eligible for discounted tickets for most of our films. For more information, please call 617-369-3310.
University Members can purchase $5 same-day tickets in person for regularly priced screenings. Valid student ID required, limit of one ticket per ID.
Sponsors

Funders of the Ruth and Carl J. Shapiro Film Program at the Museum of Fine Arts, Boston
The Boston French Film Festival is coordinated by Carter Long, Katharine Stone White Curator of Film and Video, Katherine Irving, and Alexis Weinrich.
Co-presented with the Cultural Services Office of the French Consulate in Boston.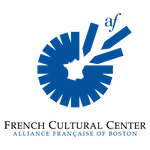 Additional support provided by the French Cultural Center.