Friday, February 25, 2022
"Stories and objects share something, a patina. . . . Perhaps a patina is a process of rubbing back so that the essential is revealed. . . . But it also seems additive, in the way that a piece of oak furniture gains over years and years of polishing, and the way the leaves of my medlar shine."
—Edmund de Waal, The Hare with Amber Eyes: A Hidden Inheritance
Eglon van der Neer's Portrait of a Man and Woman in an Interior (1665–67) is a quiet scene featuring a dignified couple seated in their house. Leather wall coverings and a Persian carpet on the table are testaments to the wealth and global trade that flowed through the Netherlands in the 17th century. Taken as a whole, the painting serves as a historical document of the rich and flourishing Dutch economy at the time. But I view this painting, like all works at the MFA, as more than just as an archival source for the period it depicts; I see it as an instrument for learning about what's occurred since—from major historical events to changes in taste and connoisseurship.
An artwork's story has not been completely told unless its provenance, its history of ownership, is included. Little is known about Portrait of a Man and Woman in an Interior's early provenance, but by the beginning of the 19th century, the painting was in France, where it spent the majority of the century, including time in the collection of the statesman Charles de Morny, Duke of Morny. The work was painted three centuries before the Holocaust, but its ownership in the 20th century can help us understand some of the ways in which the Nazi Party carried out its persecution of millions. Walter Westfeld, a Jewish art dealer based in Elberfeld (present-day Wuppertal), Germany, purchased the painting from art historian Robert Lebel between 1934 and 1936.
Shortly after he purchased the painting, Westfeld, being Jewish, was forced to close his gallery and liquidate his stock. In November 1938, he was arrested and found guilty of illegally shipping works of art and other assets abroad and selling art through a colleague following the closure of his gallery. After his trial, Westfeld served a prison sentence in Lüttringhausen. He was sent to the Theresienstadt concentration camp in 1942 and, in 1943, to Auschwitz. At the end of World War II, Westfeld was declared deceased.
Meanwhile, in 1941 Portrait of a Man and Woman in an Interior appeared for sale at Silberman Galleries in New York, where the MFA purchased it. We don't know how the painting left Westfeld's possession. It could have been part of his gallery or belonged to his private collection. The painting itself may be the last remaining witness to what exactly happened. Research, however, makes it clear that Westfeld likely wouldn't have given it away or sold it voluntarily. Nazi laws targeting Jews probably gave him no other option but to dispose of it. In June 2011, the MFA reached a financial settlement with the heirs and estate of Walter Westfeld for Portrait of a Man and Woman in an Interior, and all parties agreed to have the painting remain at the Museum.
The painting's witness to history did not end after it entered the MFA. Over the past few years, it, like all works in the collection, has endured the Museum's extended closure in the midst of an unprecedented pandemic, and later its long-awaited reopening.
It has also observed personal histories, mine included. The MFA was the first major art museum I visited as a child. Back then I wandered the galleries in awe. I continue to do that, only now as an employee. Portrait of a Man and Woman in an Interior has seen my journey, and moments from the lives of everyone else who passed through. All are now part of the painting's unique and ever-expanding story—one that will not end anytime soon.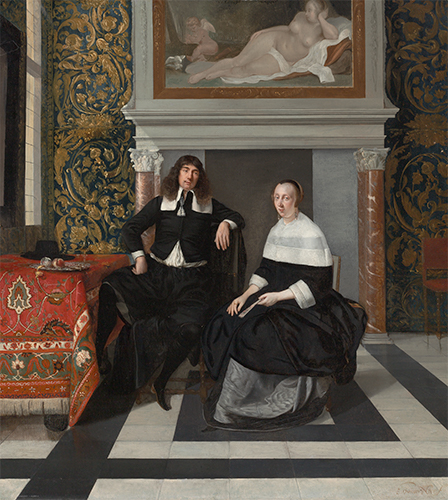 See Eglon van der Neer's Portrait of a Man and Woman in an Interior in the Museum's galleries of Dutch and Flemish Art.