Thursday, January 19, 2017
This double-portrait of Salvadora, left, and Herminia—maids in her mother's household—is a powerful statement of Kahlo's staunch belief in the ideals of the Mexican Revolution (1910–20) and her bold stance of depicting working class women in a heroic manner that celebrates their Mexican heritage.
Painted in the same year that Kahlo joined the Communist Party and appeared prominently bearing arms in Diego Rivera's mural In the Arsenal (1928), the work honors Salvadora and Herminia with dignity and individuality, portraying them at life scale. The artist recalls Italian Renaissance portraits, especially those of Madonnas surrounded by foliage, reimagined with the flatness and brilliant primary colors of Mexican folk painting. Kahlo painstakingly highlights the women's Mexican features, carefully distinguishing the shapes of their foreheads, high cheekbones, complexions, and lips. Infrared and x-ray images suggest Kahlo removed their aprons, as seen in traces of the ruffle that she later painted out.
Salvadora and Herminia push forward into our space against a lush screen of leaves, fruits, and butterflies, likely inspired by the garden at Kahlo's home, the Casa Azul (Blue House) located in Coyoacán, about seven miles from central Mexico City. Their overlapping pose speaks to their intimacy and invites us to consider how they are related, whether by blood, work, or love.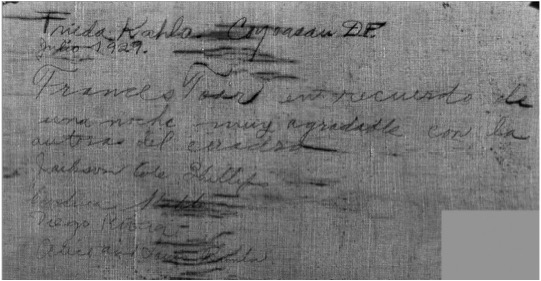 Atop the back of the canvas, Kahlo adds her signature and hometown, along with the date of July 1929.  Below, members of her circle document "a most enjoyable evening with the author of the painting." By adding her name to the back of Salvadora and Herminia's portraits, Kahlo identifies with the working women of Mexico by virtue of celebrating her first sale as an artist. A month later, Kahlo, who had been intimately linked to both men and women, married Diego Rivera, the most famous Mexican artist of the day and an international figure in promoting the ideals of the Mexican Revolution. Kahlo and Rivera's lasting partnership gives further resonance to her distinctive ability to blend the personal and the political in her art.
---
Update January 25, 2017 11:00 pm
Among the 2005 likes and individual comments on this Instagram post, here is a highlight:
bostongal_ I wrote my paper on this painting after sitting in front of it for an hour at the MFA! Nice to see similar thoughts on the piece and info shared