Read more about "Garden for Boston" and the two installations that comprise it—Radiant Community and Raven Reshapes Boston: A Native Corn Garden at the MFA—as well as reclaim. repair. revive., a collaborative billboard accompanying the exhibition. In their own words, artists Ekua Holmes and Elizabeth James-Perry share the traditions behind and insights into their projects.
Radiant Community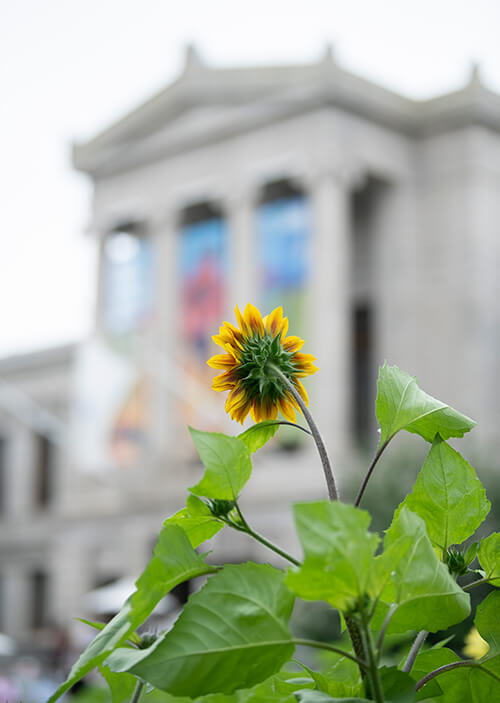 Hear from Ekua Holmes
Radiant Community is an experimental installation made of flowers. Over the spring and summer season, four varieties of sunflower will grow into a field and totem on the Museum's lawn. Sunflowers, native to North America, can represent, among other things, resilience, self-determination, and the ability for a community to evolve and emerge while staying grounded in its history and traditions.

Radiant Community is an invitation for the public to be surrounded by beauty, color, and fragrance. The sunflower's essential attributes mirror those that are reflected in the cultural traditions of Roxbury's Black community and must now be collectively amplified in our society. Resilience, radiance, deep roots, transformation, heliotropism, planting seeds, and beauty. To extend the reach and impact of this installation, free sunflower seeds and planting instructions were available for sharing and planting at home.

"Beauty is a basic service" that aids in the well-being and healing of the community. With a spectrum of colors that uplift and bring joy, Radiant Community also partners with nature to attract endangered pollinators such as bees and butterflies.

Radiant Community is a part of the Roxbury Sunflower Project, now in its fourth year of annually distributing more than 10,000 sunflower seeds to children, families, and organizations to plant individually, and staging sunflower plantings in collaboration with community organizations and businesses.
Inspiring Radiant Community
"Guided by my heritage of a love of beauty and a respect for strength—in search of my mother's garden, I found my own."
From Alice Walker, In Search of Our Mothers' Gardens: Womanist Prose, 1983
Many women have inspired Ekua Holmes's installation Radiant Community including civil rights leader Fannie Lou Hamer and Pulitzer Prize–winning writer Alice Walker. In thinking about how Black women have survived and created across time and amid discrimination and oppression, Walker used the metaphor of her mother's garden—both an actual place and a way to express creativity and imagination. Local women such as Elma Lewis, Ruth Batson, Anna Bobbit Gardner, and Bessie Barnes have contributed extensively to the cultural life of the city of Boston, making it a richer city for all. Their work was grounded in Black cultural pride and inspired by the promise of rights for all to life, liberty, and the pursuits of happiness. A gardener and multimedia artist, Holmes connects her practice to a long lineage of Black women who were inspired to make and grow things for beauty and community betterment.
Raven Reshapes Boston: A Native Corn Garden at the MFA
Hear from Elizabeth James-Perry
Raven Reshapes Boston is a nod to the Eastern Native story about the traditional knowledge keeper, Raven. Raven brought corn to this region for Native women to grow and sustain their families. In the spirit of this being, this garden is meant to welcome, intrigue, and provoke discussion as it is situated around the Dallin statue. It serves as a lively Northeastern Native counterpoint to the controversial figure.

Over the growing season, the plants will gain height and mature as we collectively enjoy the space, and anticipate the harvest and distribution. The durable and uniquely colored pale yellow dried corn husks, grasses, and corn leaves will continue to sustain us in our art practices even after this garden returns to the earth.

Corn is tall, fluid, and feminine. The slightly mounded shape creates surface relief in a flat square. It features a variety of natural colors and textures: broad leafed corn, shorter fine sedge grasses, and cranberry bean plants, softening all of the squared edges in the surrounding area. The organically shaped horseshoe crab, along with the white crushed oyster shell border, connects the planting to my coastal identity. It recalls rich sea harvests and coastal feasts—reminders of the shell middens once ubiquitous in what is now a concrete cityscape. The garden is a reclamation of Boston as Indigenous land.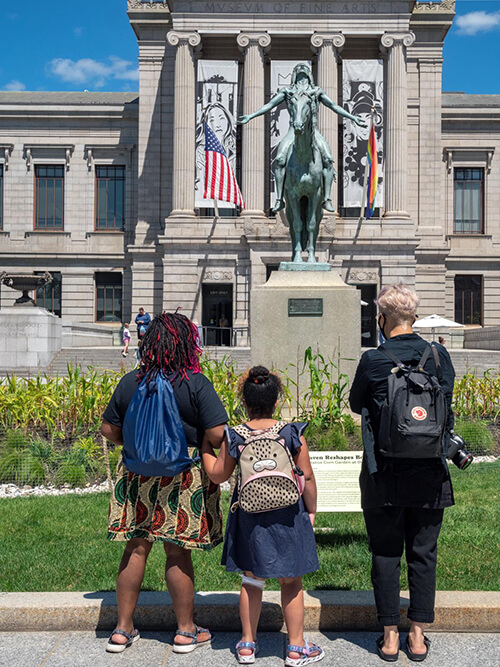 What Is a Three Sisters Garden?
Corn, beans, and squash are known as the Three Sisters. These three crops are frequently at the center of Native American agriculture, food pathways, and beliefs. They are grown together in what is known as "companion planting": each plant complements the other in the garden, helping one another to grow and nourishing the soil. The tradition of calling them the Three Sisters originates within Northeastern Algonquian communities of the New England area. Many other Native communities later adopted this practice. The planting of the Three Sisters extends far beyond this region and continues as a way to farm sustainably.
reclaim. repair. revive.
This image, on a billboard at the MFA's Huntington Avenue Entrance from June to September 2021, is the first in a series celebrating "Garden for Boston" that highlights the verbs reclaim, repair, and revive. They describe processes necessary for healing inequality. Collaged together into one image, a wampum belt and a raven on a corn stalk intersect with cowrie shells and a sunflower. Behind them are portraits of five historic Native and Black women: Holmes's aunt, Mary Matthews; James-Perry's great-great-aunt, Avis James-Smalley; James-Perry's great-great grandmother, Melissa Belain Cuff; a stylish unnamed woman photographed in an Alabama garden in the early 20th century; and Christiana Babcock Bannister. The wampum belt and cowrie necklace are both symbols of power and wealth, yet they were often made to be exchanged or gifted. Thus, they can symbolize bonds of love and friendship—gifts from abundant oceans, near and far. The women represented are matriarchs and knowledge keepers; they're the bedrock of their communities from which all else is lifted up.
The words are active and describe the work and the processes necessary for healing inequality. The cowrie shell is key to African American history both as a symbol of African wealth and power and the financing of the enslavement of our ancestors. Spiritually they are linked to the ocean spirits and protectors, fertility and womanhood. These shells were also symbols of African faith and resistance to slavery. They were likely carried to the Americas as talismans and reminders of African culture and identity. In New England, African and Indigenous histories are intertwined. The two necklaces, made of wampum and cowrie are parallel symbols of wealth and trading. Positioned here in a gesture of exchange as if our ancestors were gifting each other.

Ekua Holmes
---
In Native culture, wampum has strong connections to treaties and alliance making, and memory keeping. I created this substantial wampum piece from the quahog on milkweed in 2019 for an exhibit in the Netherlands. It is titled Out of the Ocean to honor our connection and reliance upon the myriad rich resources of the North Atlantic.

Women in Aquinnah worked tirelessly to preserve our community. A member of the Aquinnah and Christiantown communities, Avis James was knowledgeable about plant medicines, foods, and dyes as well as being a talented weaver. She was my great-great-aunt and the grandmother of my weaving teacher, Helen Attaquin. My great-great-grandmother, Melissa Belain Cuff, was born in Aquinnah to Sophia Peters and George Belain in 1837. Melissa and her siblings grew up in a tribal whaling and farming community. She was a seamstress and was widowed twice: James Jeffers and Levi Cuff were whaleman, as was her brother, Joseph G. Belain. I like her direct gaze. On the far right is successful Boston businesswoman and abolitionist Christiana Babcock Bannister, a member of the Narragansett tribe who was associated with African American and Wampanoag abolitionists. This lively portrait was painted by her husband, the African American artist Edward Mitchell Bannister.

Elizabeth James-Perry
roots. resilience. rebirth
This is the second and final billboard celebrating "Garden for Boston," displayed on the MFA's Huntington Avenue lawn in September and October 2021. The title represents a transition from summer to fall and from the growing season to the harvesting season. Like the first billboard, this work includes images of Black and Native women important to the artists and to their communities—clockwise from left: James-Perry's fourth great-grandmother, Margaret C. Parker; a green-thumbed janitor who was part of Holmes's school care team; tribal leader Gladys Widdis (Aquinnah Wampanoag); Ms. Phoebe, a woman from Alabama representing ancestral care for the land; and Dr. Helen Attaquin (Aquinnah Wampanoag), James-Perry's weaving teacher. Their images are shown to honor the artists' connections to mentors and teachers, and to ancestors and foremothers long passed. The red sunflower and corn stalk highlight the main plants in "Garden for Boston." The seeds represent the cyclical nature of cultivating plants. James-Perry created two baskets out of the traditional Wampanoag materials sweetgrass and cedar bark. She collected the other two baskets—one, made of ash and basswood bark, from her relative Betsy, and the other, a covered Penobscot made of ash and sweetgrass, at a powwow. Like all the symbols and women on this billboard, these baskets of natural materials demonstrate an appreciation for the many gifts of land and plants. Native and Black women nurture their communities and surroundings. Their achievements and life-giving land should be honored and monumentalized.
Tribal folk sought out Native communities when they moved, as was the case with my multitribal maternal grandmother's family. My fourth great-grandmother, Margaret C. Parker (1813–1908), was an Algonquian-affiliated tribal woman from Maryland. The photograph may have been taken by her son-in-law Howard Chase in Baltimore, Maryland. The baskets below her include two made by me, one by my great-grandmother Bessie Cuff James, and a Penobscot one purchased at a powwow.

The woman immediately to Parker's left is Gladys Widdis (tribal name Sassamin or Cranberry, 1914–2012). Her photo was included in a Vineyard Gazette article about her central role in keeping our community together on Noepe (Martha's Vineyard). She and other older tribal members had a distinctive way of speaking, probably from listening to elders who had Wampanoag accents. Within small northeastern tribal communities, many of us are related, and she was my cousin. Watching her continue to practice Gay Head pottery into her 90s was truly inspirational to all of us.

Pictured at bottom left is Dr. Helen Attaquin (Aquinnah Wampanoag, 1923–1993), who obtained her PhD in Education at Boston University. Community-minded, Helen was my first weaving teacher and, to my delight, kept quite a few old family photographs. She and her mother, Helen (Peters) Attaquin Haynes, were dedicated activists working for Native rights in Boston. With their plant, arts, cultural, and historical knowledges, they created a series of small museums in Aquinnah before finally putting their effort into making the Wampanoag homesite at Plimoth Patuxet Museums. Like many tribal members she was multitalented, an excellent weaver and basket maker, a bead worker, a musician, and educator.

Elizabeth James-Perry
---
Much of my work explores childhood, family values, and relationships. At its core is joy, appreciation, and love. Many artists I admire have moved their art into public space, to capture the attention of folks who may not come into museums. We want to be in conversation with them, and public space allows you to have an impact and alter the urban atmosphere in very positive ways.

Planting sunflowers on the MFA's lawn is a way to reembrace and honor Roxbury's history, including the Indigenous people, the stolen people, and the migrating people. As a society, let's look at memorials and public art in new ways. Part of that process is revealing hidden and erased histories that have not been seen or acknowledged.

A lot of visual learning takes place on city streets and can enhance what is happening in the classroom. Radiant Community and roots. resilience. rebirth. represent the kind of learning that I want to initiate and support. How can gardens and flowers be memorials? What is it like to have a memorial that you must plant and tend every year?

roots. resilience. rebirth. speaks to the roots of plants but more importantly the rooted nature of community and relationships. The woman with the broom on the top right is from the American south and represents African American ancestors' stories of care, resilience, and service to the land. At right center, the "custodial" mother grew plants in addition to being part of my school care team at MassArt. Looking back to honor inspiring and generous women gives our communities resilience and allows for the renewal and rebirth of traditions. The sunflower seeds speak for themselves, representing our future and our ability to make choices that beautify and uplift our communities.

Ekua Holmes