Corn is one of the Three Sisters—the name for the companion plants corn, beans, and squash. It is a staple food grown in Native gardens for centuries.
Corn husks are the protective leaf the plant forms to cover growing corn. They have a distinctive texture. Widely available every fall harvest season, it is a favorite material for Northeastern Native art. Corn husk is used by tribal artists for baskets, mats, braided rugs, and even braided shoes and sandals. The husks take a dye beautifully, but you can also try applying color from markers or perhaps paints. Simply peel off, rinse, and dry the layers of corn from your garden on a tray or purchase already dried husks in the grocery store.
These instructions were created in collaboration with artist and culture bearer Elizabeth James-Perry (Aquinnah Wampanoag) and were inspired by her installation Raven Reshapes Boston in the exhibition "Garden for Boston."
Photos and instructions courtesy of Elizabeth James-Perry.
Instructions
Materials
You will need:
scissors
a small bowl of water
a cloth or paper towels
dried corn husks, approximately 12 needed per weaving
wide-notch cardboard loom or a piece of cardboard cut to 3.25 x 13 inches with notches cut into the top and bottom
approximately 28 feet of cotton warp or string
Step 1
Step 2
Step 3
Step 4
Step 5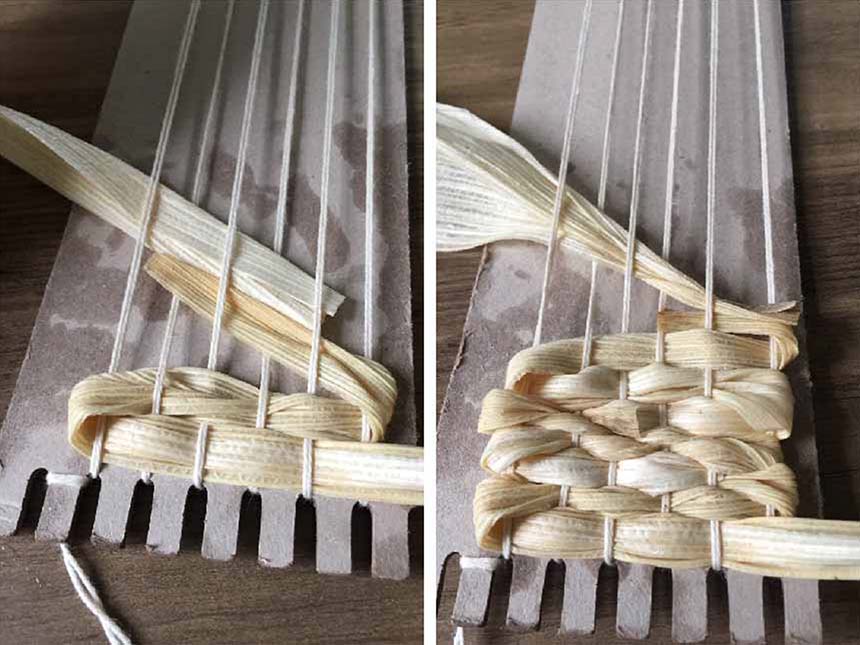 Step 6
Step 7
Step 8
Step 9
Step 10
About the Artist
The work of Elizabeth James-Perry (Aquinnah Wampanoag) highlights the link between Wampanoag sovereignty, land, and art. A recording she made about King Philips Sash, connecting the rare textile to the colonization of eastern tribal territory, was played to the Massachusetts State Legislature as part of the initiative to replace the state seal. She designs authentic materials for exhibitions and the stage, most recently for Tashtego in Moby Dick at A.R.T., and for Manahatta at Yale Repertory Theatre. She shared the unique beauty of Wampanoag homelands in producing the background scenery for As Nutayunean, the Wampanoag Language Reclamation Program documentary film.
Elizabeth holds a degree in Marine Science from the University of Massachusetts Dartmouth, and a certificate for Digital Tribal Stewardship from Washington State University. She spent over a decade engaged in Historic Preservation for her tribal nation and was a member of USET's Culture and Heritage Committee, and was the Federal Tribal Co-Lead of the Northeast Ocean Planning Body.