Sunday, July 15, 2018
6:30 pm–9:00 pm
Harry and Mildred Remis Auditorium (Auditorium 161)
Directed by Jean-Paul Civeyrac (France, 2018, 137 min.). Digital. French with English subtitles.
Etienne (Andranic Manet), a serious, shaggy-haired young cinephile, leaves behind his steady girlfriend (Diane Rouxel) in Lyon to study film in Paris. Settling into a dingy flat with a rotating cast of roommates, he immerses himself in a bohemian world of artists, intellectuals, and fellow film geeks who excitedly share their passion for Bresson, Ford, and obscure Russian directors. It's a seemingly idyllic life of the mind—until more complicated matters of the flesh, as well as jealous creativity, intrude. Shooting in timeless black and white and interweaving references to philosophy, music, and cinema—from Pascal to Mahler to Parajanov—unsung auteur Jean-Paul Civeyrac conjures a bittersweet ode to the heady days of student life.
Synopsis courtesy of the Film Society of Lincoln Center.
Ticket Information
To order tickets by phone, call 1-800-440-6975 ($6 processing fee applies); to order in person, visit any MFA ticket desk.
Discounts
Purchase tickets to three or more regularly priced films at once and get $3 off each ticket. Discount automatically applies at checkout. This discount is not applicable on past purchases. All tickets must be purchased at the same time within the same order for discount to apply.
Groups of 10 or more are eligible for discounted tickets for most of our films. For more information, please call 617-369-3310.
University Members can purchase $5 same-day tickets in person for regularly priced screenings. Valid student ID required, limit of one ticket per ID.
Event Policies
If the screening of this film starts after Museum hours, please use the Linde Family Wing Entrance on Museum Road.
Taste Café will be open for movie concessions until 15 minutes after the film starts.
The parking garage will remain open for 30 minutes after the film ends.
Sponsors

Funders of the Ruth and Carl J. Shapiro Film Program at the Museum of Fine Arts, Boston
The Boston French Film Festival is coordinated by Carter Long, Katharine Stone White Curator of Film and Video, Katherine Irving, and Alexis Weinrich.
Co-presented with the Cultural Services Office of the French Consulate in Boston.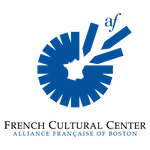 Additional support provided by the French Cultural Center.