Saturday, July 21, 2018
6:30 pm–8:00 pm
Harry and Mildred Remis Auditorium (Auditorium 161)
Directed by Jean-Luc Godard (France, 1963, 75 min.). Digital. French with English subtitles.
One of Jean-Luc Godard's rarely seen gems, this comedic anti-war parable follows two poor farmers who are recruited to fight in a war in a fictional country. Ulysses (Marino Masé) and Michel-Ange (Patrice Moullet) receive letters from the king promising dazzling riches in return for their service, and granting them absolute freedom from consequence while fighting in the war. Their greedy wives help convince them to enlist, and the men proceed to murder and pillage without reservation, abandoning all morality. The pair's exploits are recounted through postcards sent to their wives, telling tales of the horrors of battle.
"So incredible and so brilliantly prolonged . . . it climbs a high wire and walks it and keeps walking it until we're almost dizzy from admiration. The tight rope is rarely stretched so high in movies."—Pauline Kael
Print courtesy of the Institut Français.
Ticket Information
To order tickets by phone, call 1-800-440-6975 ($6 processing fee applies); to order in person, visit any MFA ticket desk.
Discounts
Purchase tickets to three or more regularly priced films at once and get $3 off each ticket. Discount automatically applies at checkout. This discount is not applicable on past purchases. All tickets must be purchased at the same time within the same order for discount to apply.
Groups of 10 or more are eligible for discounted tickets for most of our films. For more information, please call 617-369-3310.
University Members can purchase $5 same-day tickets in person for regularly priced screenings. Valid student ID required, limit of one ticket per ID.
Event Policies
If the screening of this film starts after Museum hours, please use the Linde Family Wing Entrance on Museum Road.
Taste Café will be open for movie concessions until 15 minutes after the film starts.
The parking garage will remain open for 30 minutes after the film ends.
Sponsors

Funders of the Ruth and Carl J. Shapiro Film Program at the Museum of Fine Arts, Boston
The Boston French Film Festival is coordinated by Carter Long, Katharine Stone White Curator of Film and Video, Katherine Irving, and Alexis Weinrich.
Co-presented with the Cultural Services Office of the French Consulate in Boston.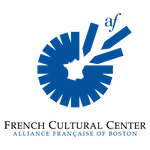 Additional support provided by the French Cultural Center.