Sunday, July 22, 2018
6:30 pm–8:15 pm
Harry and Mildred Remis Auditorium (Auditorium 161)
Directed by Marc Dugain (France/Belgium, 2017, 100 min.). Digital. French with English subtitles.
Based on the book The Exchange of Princesses by Chantal Thomas, who also penned Farewell, My Queen, this sumptuous historical drama tells the true story of two young princesses who are torn from their homes and families to improve political relations between France and Spain. In 1721, the Regent of France proposes a marriage between 11-year-old Louis XV, heir to the French throne, and 4-year-old Maria Anna Victoria, daughter of the King of Spain. The Regent also offers his 12-year-old daughter as a bride for the 14-year-old heir apparent to the Spanish throne. Madrid responds enthusiastically to both proposals, and the ceremonies are promptly organized. But all does not go according to plan, and the young royals find themselves caught in a harrowing web of political intrigue. 
Ticket Information
To order tickets by phone, call 1-800-440-6975 ($6 processing fee applies); to order in person, visit any MFA ticket desk.
Discounts
Purchase tickets to three or more regularly priced films at once and get $3 off each ticket. Discount automatically applies at checkout. This discount is not applicable on past purchases. All tickets must be purchased at the same time within the same order for discount to apply.
Groups of 10 or more are eligible for discounted tickets for most of our films. For more information, please call 617-369-3310.
University Members can purchase $5 same-day tickets in person for regularly priced screenings. Valid student ID required, limit of one ticket per ID.
Event Policies
If the screening of this film starts after Museum hours, please use the Linde Family Wing Entrance on Museum Road.
Taste Café will be open for movie concessions until 15 minutes after the film starts.
The parking garage will remain open for 30 minutes after the film ends.
Sponsors

Funders of the Ruth and Carl J. Shapiro Film Program at the Museum of Fine Arts, Boston
The Boston French Film Festival is coordinated by Carter Long, Katharine Stone White Curator of Film and Video, Katherine Irving, and Alexis Weinrich.
Co-presented with the Cultural Services Office of the French Consulate in Boston.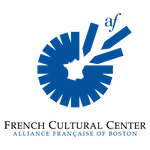 Additional support provided by the French Cultural Center.